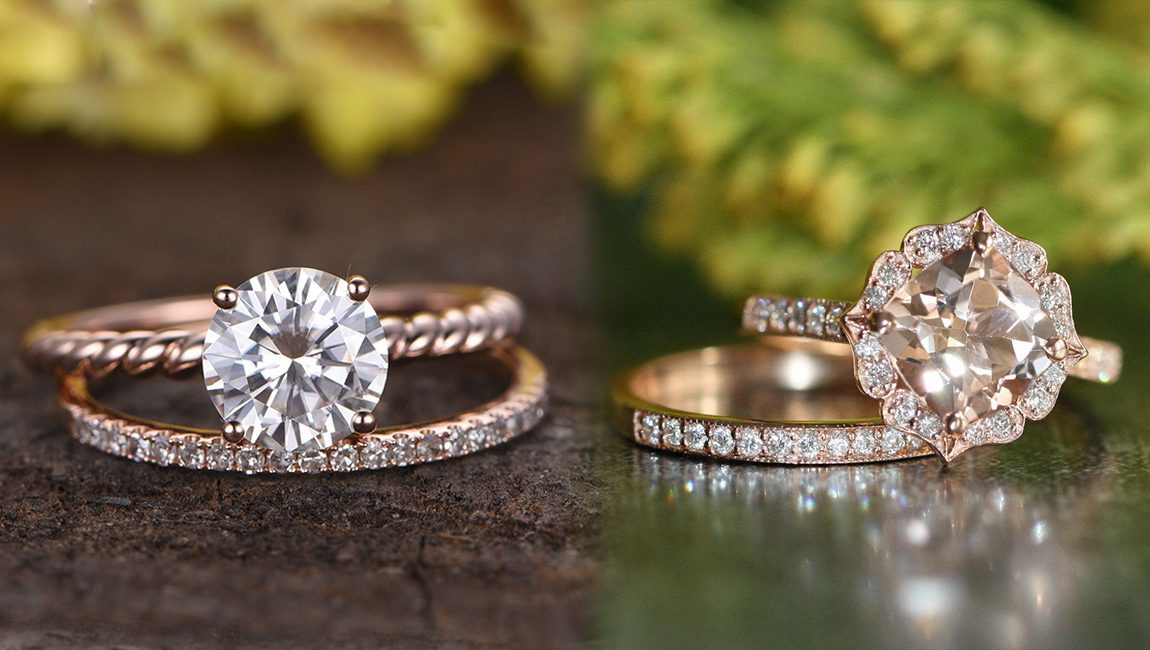 Moissanite Engagement Rings: A Symbol Of Forever Love
When you have found your one and only, you would definitely want an engagement ring that says so. An engagement ring is not just a piece of jewelry, it is more like a symbol of love, commitment, and devotion to spend the rest of your lives together.
Unfortunately, finding and affording a well-priced engagement ring is difficult that's equal to the amazingness of your beloved partner. Although, conventional philosophy says that you should spend at least 3 months of salary on an engagement ring. Love and marriage have become so overly commercialized that we seem to equate our love with how much we spend. However, you do not have to break your pocket or bank to buy affordable wedding rings.
Moissanite engagement rings are brilliant, elegant, and affordable alternatives to diamonds and come in variations of style, colors, shapes, and patterns to suit every persona.
This informational guide will help you learn how to select the ideal moissanite engagement ring with our recommended tips for buying a beautiful and affordable ring.
Tips for Choosing the Perfect Moissanite Engagement Rings
There are certain factors to be considered when choosing the perfect moissanite engagement ring such as size, cut, clarity, color, and much more that will make sure your ring will be a perfect statement piece. The below-mentioned tips will help you bring home the wedding ring of your dreams to cherish for the rest of your life.
1. Pre-Determine A Budget
 Before you lay your eyes on some of the best-curated collections of moissanite engagement rings, the important task you need to perform is deciding on a budget beforehand. It is very essential to know how much will you be able to spend on a ring. This will help you and your jeweler narrow down your options revolving around your specific budget that will suit your beloved's personal taste.
Your plan of action should always start with fixing a budget because it's a financially responsible decision that you will make. And that will help you keep realistic expectations while looking for the perfect ring and make many decisions easier further ahead.
2. Define Your Priorities
Once you have pre-fixed your budget in advance, now is the time to set your priorities. When we talk about priorities it means, are you searching for a high-quality diamond, or leaning towards a simplistic metal band, or diamonds embellishing the band?
Once you have a rough idea of your priorities, it will help you explore the options within your set budget. Some of the smartest compromises you can make while setting your priorities are:
Always choose quality over quantity. We highly recommend buying smaller-size moissanite that is higher in quality over a larger moissanite stone. You can also spend more of your money on the diamond instead of mounting the setting.
You can go for a halo setting too. Your center stone of lesser weight surrounded by several smaller diamonds will create a beautiful ring and if done correctly will make your center stone appear larger.
Custom shopping doesn't always mean being expensive. If you are unable to finalize a ring that fits your price range, you can collaborate with your jeweler to help you create something unique for your lady love.
Also, find out are moissanite diamonds as strong as regular diamonds?
3. Have A Brief Understanding Of 4Cs
 The four Cs that determine moissanite's value is cut, clarity, color, and carat. When you are shopping for your wedding ring, it is advisable to have knowledge of moissanite grades. Having so will help you fully understand the characteristics you want in your stone because it will allow you to shop with confidence.
4. Choosing the right setting is crucial
The majority of engagement rings are made up of 2 pieces i.e. the center stone and the ring setting. Although, most of the budget goes to the center stone, choosing the right setting is very vital to style any of your rings.
Moreover, not only does selecting the right setting will secure your ring but it will directly impact the overall aesthetic and appearance. You don't have to get a gem with more carats instead you can choose a setting that will create the illusion of more carats.
Do not always emphasize the center stone, look out for the setting too!
5. Choose Your Mounting With Care
One of the main facts while buying a ring is, the more metal required to build a ring, the more expensive it is. So, the best bet is to choose a mounting that has minimal settings such as a prong setting.
The prong setting will make your center stone appear more visible, highlighting your gem instead of the bezel setting.
Just because you are going to opt for an affordable wedding ring, doesn't really mean you are short on styles and patterns. You don't have to sully your love with an expensive ring and it doesn't always have to be rocket science. Give your ladylove the engagement ring of her dreams from our collection of moissanite engagement rings that are affordable yet brilliantly gorgeous to make her happy for a lifetime.